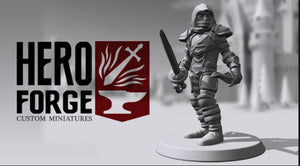 Material: Resin
Follow this guide to get your own mini from Hero Forge.

1. Create an account at www.heroforge.com

2. Create your Custom Mini figure.
3. Purchase the mini from Hero Forge
4. When you receive an email with a link to .STL file, download it. Now you own your own mini, that you can print many times. 
5. Please chose the size of the mini from the drop-down menu. What you paying us for is to print, clean, cure, prep, and post the mini to you. 
6. eMail us the .STL file to enquires@geekvillain.co.uk with your order number as the subject. 
If you have any questions, please do not hesitate to contact us
Please allow up to 10 working days for us to complete your order. We aim to get it printed a lot sooner, but at times we are super busy.