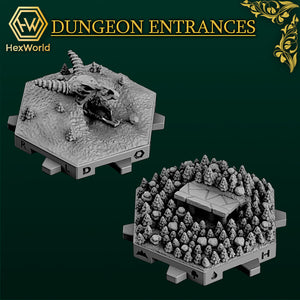 Take your adventures below the ground and delve into the dungeons!
Included:
1 x Woodland Dungeon Entrance




1 x Plains Dungeon Entrance



The dimensions are 50mm from point to point but can be printed down to 25mm point-to-point

Hexworld was created because 2D maps left a lot to be desired when playing tabletop games. The hexagonal modular 3D printable maps we have created allow a high level of versatility, giving you the freedom to create completely unique maps for your campaign. 

Show off your tabletop maps in a new way with our 3D printable modular maps which offer unmatched versatility.
All models are printed in resin using 0.05mm layer height, for the best resolution and print results. Models supplied unpainted and some may require assembly. 

Models are cleaned and cured and all supports are removed before models leave our workshop. 
*Models come unpainted.
*All models are printed by Geek Villain Ltd and designed by Hexworld.
*Please allow 10 working days to fulfil your order, all minis are printed to order.