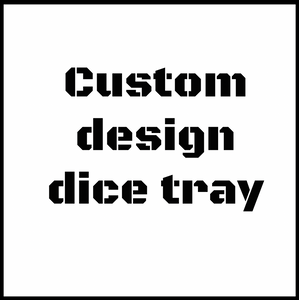 Our unique collection of neoprene dice trays. 
The area for throwing dice is now about 18cm x 18cm.
Unfolded dice trays are about 25cm x 25cm and 3mm thick.
Dice trays are printed in high quality ink that is soaked into the material. We use neoprene material for durability and it's non-slip backing. We use metal snaps for extra durability and ease of use. 
After the 

purchase:



1. Please look for an email from us with a link to a dice tray template file
2. Please download the template file
3. Open the template in any graphic design software and create your dice tray
4. Once completed, please email the file back to us (please save as .tiff is possible)
5. We will print you custom designed dice tray (exactly as you designed it)
PLEASE REMEMBER THIS IS PRINT ONLY SERVICE...WE WON'T BE DOING ANY WORK WITH YOUR IMAGES!
WHITE BACKGROUND:
The image should be 20cm x 20cm. Your image will be printed in the centre of the dice tray on a white background.
COLOUR BACKGROUND:
If you want different colour background please make sure, you send us image that's 27cm x 27cm in size. The logo is centred and the background is added to the image. We will print exactly what you send us.
Please allow up to 10 days for the production.
Once you make a purchase, please email us the design to info@geekvillain.co.uk and use the order number as a subject of the email.