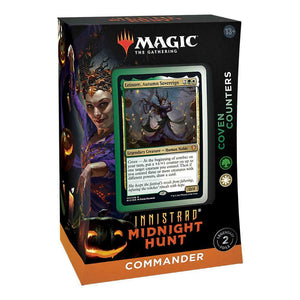 Innistrad: Midnight Hunt Commander Deck – Coven Counters (Green-White)
The Coven Counters Innistrad: Midnight Hunt Commander Deck set includes 1 ready-to-play Green-White deck of 100 Magic cards (2 traditional foil, 98 nonfoil), 1 foil-etched Display Commander (a thick cardstock copy of the commander card with textured foil etched into the card's border and art), 10 double-sided tokens, 1 deck box (can hold 100 sleeved cards), 1 life tracker, and 1 reference card—all using 98% less plastic than previous Commander decks, including packaging.
An Epic Multiplayer Experience
Commander is a multiplayer way to play Magic—an epic, free-for-all battle full of strategic plays and social intrigue. Alliances may be made, but in the end, only one player will be left standing. Until the next game begins, of course!
Try out Magic: The Gathering's most popular format with a ready-to-play deck.
COVEN COUNTERS—Strengthen Your Creatures
Bring together a myriad of humans and throw a festival for your coven! As the Harvesttide Sovereign, Leinore has the ability to gift your creatures +1/+1 counters as you see fit. Use this ability to turn on the coven mechanic for Leinore and her guests so you can reap those bounties turn after turn—drawing cards and buffing your allies long into the night. As hope grows among your revelers, watch it fade from your opponents' eye.
COVEN
Coven Counters is full of cards and creatures that work together with incredible synergy. Gather your coven to battle the encroaching darkness and the longer you stand united, the stronger you'll become.
Introduced with Innistrad: Midnight Hunt, cards with the coven mechanic grant certain benefits when you control three or more creatures with different powers.
Contents:

100-card ready-to-play Innistrad: Midnight Hunt Commander deck
Deck includes 2 traditional foils + 98 nonfoil cards
1 foil-etched Display Commander
10 double-sided tokens + life tracker and deck box
Introduces 15 cards not found in the main set
Gather your coven and become stronger every turn with +1/+1 counters