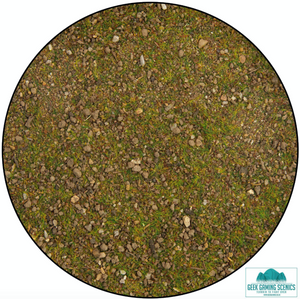 Ground Cover Scatter
Are you looking for the perfect terrain material, then look no further! 
After years of testing and experimenting Luke's Aps has created a range of Scenic materials to rival the world's best,
After a trial and test release to thousands of his YouTube community, The Luke's Aps Range is now available to everyone
The Ground Cover range was released because during Luke's work as a YouTuber, commission terrain designer and painter, he was always looking and experimenting with materials to create the perfect boards and layout for his customers, he has used hundreds of products from different manufacturers, but nothing was ever the perfect mix of properties and use ability,
So, after years of testing and working with different scatters, flocks and foliage materials, Luke decided to release his own.
The Ground Cover Scatter range is:
Available in 3 Blends to cover a range of effects
Specially designed blends to replicate forest floor and paths
Colour fast, wont bleed colour and will retain original once adhesives have dried
Easy to blend with other colours to give a more distinct and refined blend
Due to the durable nature of the product is it ideal for Wargaming Boards, Train Layouts, Dioramas and other hobbies where frequent handling can be an issue

Available Ground Cover: 
Special blend of different materials such as sand and small stones for the creation of forest paths and dirt roads or larger areas
Special soil mixture made from different materials such as sand, fine gravel, grass flock etc. for the creation of a coniferous under foot forest soil.The effect is - as the accompanying picture shows - absolutely true-to-life.
The perfect material for a realistic forest floor: the mixture of sand fine gravel and flocking material gives the appearance of soil and dry leaves.
Easy to use:
Luke's Aps Forest Ground Cover Ground Scatter range can be used for a multitude of different effects, placed directly on to a layout to create realistic ground cover floorings or paths or the use of a little material can produce amazing effects in the case of the creation of areas, e.g. As ways to define pathways or the edges of a forest
Contains approximately 140g