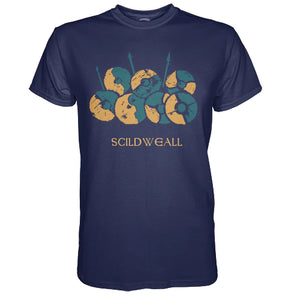 Navy 
100% cotton shirt with teal and orange screen printed image. Available in sizes up to 4XL.
The shield wall existed for many centuries as a defensive tactic that your opponents army could break themselves on. Greeks, Macedonians, Romans and of course Anglo-Saxons and Danes all utilised the shield wall which consisted of warriors overlapping their shields and standing in multiple roles, therefore, providing an "impenetrable" wall where warriors gain protection from not only their own shields but also their neighbours.
In Anglo-Saxon times the shield wall (Scildweall or Bordweall in Old English) was commonly used since it was effective and required little skill on the part of individual soldiers many of whom were not professional soldiers. The majority of soldiers fighting in these battles would have been armed with a spear.
The use of heavy cavalry meant the demise of the shield wall as a common tactic.